From https://myanimeshelf.com/upload/
dynamic/2011-11/07/211.jpg
Based on a original premise
Viewed in Japanese with English Subtitles
Yuki Terai - Secrets is an obscure compilation DVD, as obscure as you can get and probably for the better as in all honestly there's no real value to the set of shorts baring another curiosity in terms of early computer animated anime, another one covered for the blog but with an added factor that this is a portfolio for a fictitious female idol entirely created on a computer. This belongs to a series called Virtually Real that, in the weird early existence of DVD from 2000 and the first few years of that decade, was released in the UK alongside many a weird obscurity; in fact, from the trailers on the DTS sound enhanced disc, there are two more of these devoted to their own idols out there and can still be found on Amazon. Yuki Terai herself is a permanently seventeen year old girl who is brought to life by actresses in VR costumes and animators, able to star as multiple characters and show off many talents over the shorts contained in the disc. She is the titular figure of Comet the Thief, stealing a priceless guitar and fighting the owner over it in a fist fight, then a singer in a jazz club in Fly Away Home. She is trapped on a spaceship infected by a virus in Lazy Gui, the damsel whose love for an American is contrasted by being a spy in World War II in teaser Project BB-11. She sings, does her own action scenes, stars in a comedy with a cute robotic dog in Das/Chin or is terrorised by her own reflections in The Mirror.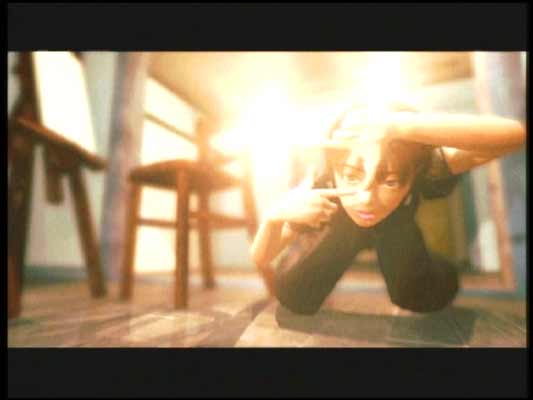 From http://images.myreviewer.co.uk/fullsize/0000059814.jpg
Like the other proto-3D animated anime I've covered on the blog, this is another case of time being unkind to the material. A lot of it is clearly meant to demonstrate the graphical capabilities of the animators creating Terai, particularly an individual named Kenichi Kutsugi, a videogame visual effects and CGI cut scene designer, who overlooks this work altogether; unfortunately due to this emphasis, rather than plot or anything away from predictable stories, it lessens any chance for anything great to stand out now the animation is obsolete. Worse, this was released in the UK in 2002, after (entry #20) Final Fantasy: The Spirits Within (2001), making it look dated even back when it was first released. Comet the Thief, the first on the DVD menu, is a perfect warning of its lacklustre look, the fight scene in the middle between Terai and a male crime boss resulting in stilted character movements against basic backgrounds. It's detail in hindsight to viewing all these works - from this to (entry #3) A.Li.Ce (1999) - that is the ultimate crippling flaw of all the ones I've covered, the reason I have to flog a dead horse in these reviews of praising one called Malice@Doll (2001), an anime I need to review on the blog at one point, for doing something different by melding 2D animated details on 3D models. This detail also has to be a personality too, which is why The Spirits Within was bland even though the animation was innovative in its day on an extremely high budget. Particularly with Yuki Terai - Secrets I cannot help but compare it to old videogames, why once high calibre games which pushed graphics have mostly been forgotten but people still go back to old 2D Megadrive and SNES games, although from context its clear the compilation wasn't even the highest quality possible of its kind.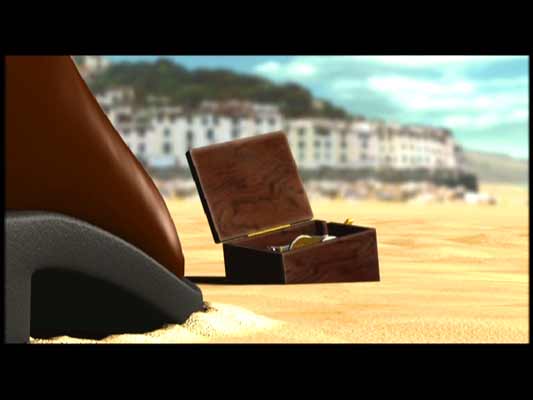 From http://images.myreviewer.co.uk/fullsize/0000059819.jpg
Most of this compilation is pretty bland, less than five minutes long a piece, which cannot get out of the mind set of test demos or plain old music videos in the case of Fly Away Home and especially My Dearest You, which is a clear music video with the model of Yuki Terai against what appears to be a lava lamp for a background. Whether it's the jazz club of Fly Away Home or the interior of a WWII battleship, there's little aesthetic style to these models or even a mood. Even in Lazy Gui when Terai is threatened by a virus that gets into the security system, cuts off her oxygen and even turns off the gravity, the short is mainly set in one corridor with a computer figure with no emotional draw or a quirk to make it stand out. Something like Dos/Chan only stands out because of the cute dog, with an iPhone for a face, which doesn't determine quality by itself. This is worse for a short like A Life, about Terai as a suicidal young woman, lacking any emotional connection especially as it ends with her shooting herself. The exception, which could've been utterly rewarding if polished and worked on by itself in terms of its visuals, maybe even animated in 2D rather than 3D, is The Mirror where there is a creative and bold story at hand about Terai being haunted by her mirror reflections. It's not a great short, but it manages to have a dreamlike tone where her doubles crawl from any reflective surface - mirrors, windows - they can and she can fell into a puddle of water into another reality. It goes as far as having countless duplicates pin her in the corner of a subway car, jumping out of it only to be hit by another train passing by and being absorbed into its reflective front window. The only real flaw with it is that, with a final rooftop battle between her and a double with a neon sign involved and a cheesy pop sign on the end credits, it does get a bit silly at the end, needing a drastic rewrite if it ever got remade.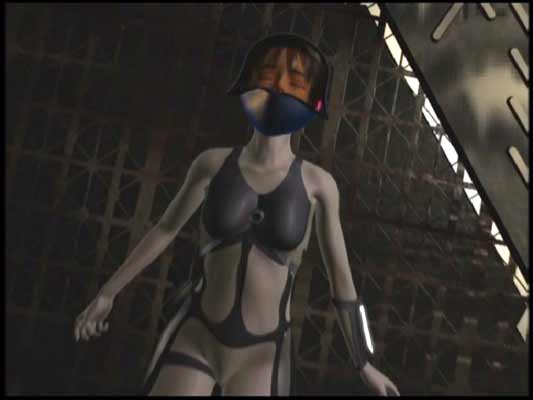 From http://images.myreviewer.co.uk/fullsize/0000059818.jpg
Within all these shorts, Yuki Terai is a figure we're meant to emotionally engage with, created by Kenichi Kutsugi for a manga of his in 1997 and having a string of appearances by the time of this DVD. This is part of a long line of virtual idols that particularly exist in Japanese pop culture, the likes of Vocaloid, a voice synthesiser, can make possible, able to sustain a popular audience but contrasting with real female idols. It reminds me of Sharon Appleof Macross Plus (1994), a virtual pop idol who however could only exist, in that anime's plot, because a former idol has to implant her personality into its software. The virtual idol, especially when you get into the issue of virtual film actors th, is still stuck with being a figure that needs human life put into it to actually have a personality. The idea of actors being replaced by CGI ones, taken to its biggest extreme in the Ari Folman film The Congress (2013), has been brought up occasionally and was the case with Final Fantasy: The Spirits Within where the female protagonist, a mere 3D character design barring her voice actress, was meant to become a star in her own right who went on to other films in numerous roles. That never took place and it's an immensely failed idea as, not only was the "uncanny valley" as much a problem for a mega budget film like that let alone this compilation, but also there's the issue that these 3D figures can be completely bland and usually end up with tedious personalities as a result of their character designs and/or the narrative they're in.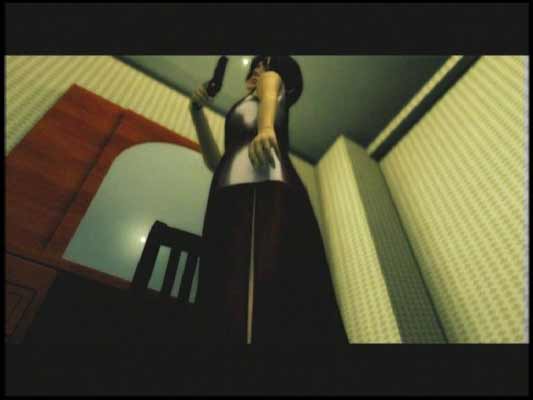 From http://images.myreviewer.co.uk/fullsize/0000059827.jpg
Terai here is just a model of a seventeen year old as depicted by a male otaku, beyond a pretty face the kind of bland figure that'd sink a conventional anime TV series through her lack of personality. The character is meant, be it to the point of being exceptionally creepy or narrowly avoiding it, to personify a cuteness meant to attract male viewers; amongst the two other Virtually Real DVDs, one is of a stereotypical pin up with gravity defying breasts who in one of the scenes in her DVD's trailer is wearing only sexy underwear and body tattoos fighting zombies with katanas, thus showing that a fetishisation is as much part of the series as any other reason. Terai's lack of personality is also defined by her bland character design, which is ironic as she's clearly the only figure that has been giving some care of her design baring the robot dog. Like other 3D anime I've covered for the blog, the male side cast such as in Comet The Thief is comically rudimentary, like basic templates from a 3Ds Max programme, the obsession with bald heads probably better than the American soldier of Project BB-11's plastic blond hair. She herself is as much part of the problem with the whole compilation, neither protected by kitsch as early eighties and nineties CGI has been nor belonging in quality roles hiding behind a dated shell. Only the recognition of the animators pushing this animation really stands out for me, admiring their work despite the time that has passed, but for an anime of any sort it needs to actually engage beyond the technical details behind it.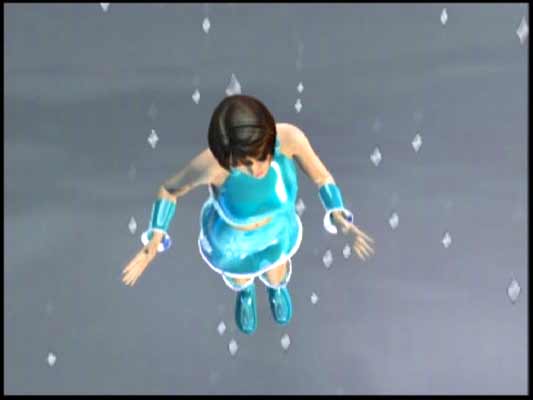 From http://images.myreviewer.co.uk/fullsize/0000059830.jpg